Interact

19 - 22 September 2013
Interact continues Rae's exploration of the captured moment as the point where performance and photography converge. Pushing the work in a new direction, Rae explores the conventions of narrative through positioning the protagonist in and out of the frame, creating connections between objects and the artist's body.
The precision with which Rae captures fleeting moments renders objects without the weight of gravity, as fabric seems to float upon the air. In contrast Rae's body is imbued with an exaggerated weight as her poised form intersects the fabric at decisive points. The stillness of the photograph is accentuated by the ensnared movement, making the viewer aware of the impossibility of these static figures outside of the photograph.
Interact furthers Rae's investigation of the subjectivity of gender constructs through the presence of the artist's body, unearthing discussion around representation, femininity and identity.
This exhibition was presented at Carriageworks, Sydney as part of the inaugural Sydney Contemporary art fair.
Please contact the gallery for a full list of available works and details.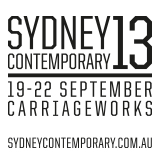 Text, Press and Downloads
Review of Interact, at Sydney Contemporary, by Carol Schwarzman. Polycentrica, October, 2013.
"The Definitive Sales Report" by Nicholas Forrest. Blouin Art Info. 24 September 2013.
"Sydney Contemporary 2013" SydneyArt blog. 19 September 2013.