Constructing Site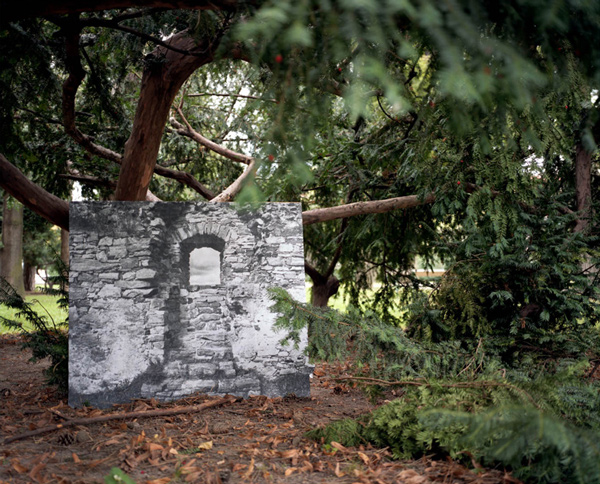 18 March -23 April 2011
Constructing Site continues James Voller's exploration of urban space through photography and site-specific installation. Produced in Austria, the Czech Republic and Germany, Voller's photographic paste-ups physically layer images of ruins over existing sites in the urban environment. The resulting photographs of these interventions produce a complex image that reflects on both the construction of the urban environment and on the constructed nature of the photographic image itself. Photography in Voller's work both preserves and constructs place.
In Constructing Site, Voller has combined these intervention works with documentary images of surrounding areas. The everyday sites in these photographs could be considered found 'interventions', and they present urban space as dynamic, in constant flux. Across both types of images, Voller articulates an understanding of urban space as a palimpsest, where layers of human intervention slowly accumulate amidst financial and political cycles, architectural trends, and patterns of migration. Navigating the townscape, a space in continual evolution, Voller's work explores the shifting definitions of value that define the built environment. In addition, the 'documentary' status of all of the images is complicated by the explicit use of photographic illusion in the intervention works.
Voller's intervention images, as photographs of photographs, also draw attention to the construction of the cityscape via its photographic mediation. Photography shapes our understanding of the world around us, but is prone to its own constructions (via choice of subject, framing, processing, post-production, and so on). The intervention artworks, with their re-appropriation of the tactics of the commercial billboard, emphasise the constructions of place that all photography produces.
Featured in the gallery's smaller display area are two of Voller's earlier works: Raycroft 1 and Raycroft 2. Produced in New Zealand, amongst the detritus of the construction industry, these works, like the European photographs, draw attention to abandoned and forgotten places, and the shifting trends and cycles of the built environment. In the context of New Zealand, which experienced a rapid boom in housing prices in the 2000s, the works have a particular resonance, and intersect with concerns over land value, land use and the desires that drive the housing market. This work also shares with the images from the Constructing Site series a playful exploration of photography and its potential to produce confusions of scale, illusion and unexpected juxtapositions.
For available works, please contact the gallery.