Darkness on the Edge of Town
David Surman, James Voller. Curated by Kyle Weise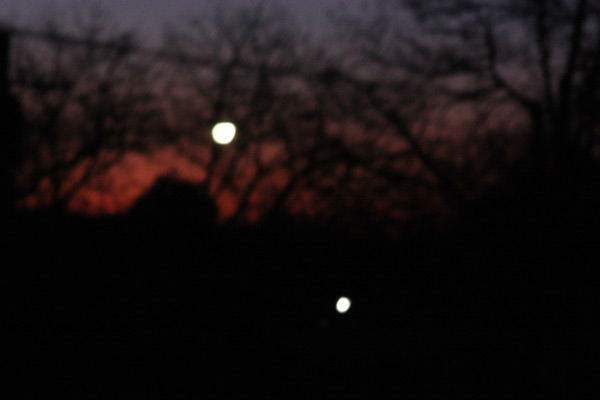 22 July - 13 August 2011
Spanning video, photography and painting, Darkness on the Edge of Town explores the
in-between sites and borderlands of the contemporary built environment and landscape. In the works presented here, 'darkness' is both a literal and metaphorical feature of these spaces. Several works are focused on night-time scenes, while other works present the suburban environment, with its expanding frontiers and forgotten spaces, in stark-daylight, but with potentially sinister undertones. Shared amongst all of the works is a fascination with landscapes that are in flux. The works create scenes that shift and blur the boundaries between darkness and light, movement and stillness, interior and exterior, the built environment and wild nature.
In a gesture that refers to the importance of popular culture in defining this landscape, the exhibition takes its title from Bruce Springsteen's popular 1978 album of the same name. In this album, as in much popular culture, the edge of town is a site of physical uncertainty that also presents a conceptual ambiguity: the edge of town is a frontier of possibility, a route to freedom from everyday life, but its possibilities are inevitably tainted with doubt and fear.
Referring back to the 1970s, the title also points towards the 1975 "New Topographics" exhibition, which focused on photographic work that captured the emerging contours of the American and European landscape. This work presented an exploration of the quotidian reality of a landscape dominated by cars, consumerism, waste and environmental destruction. Crucially, however, many of the artists associated with the "New Topographics" also found incredible beauty amongst this banality. Their work is neither a simple celebration nor outright condemnation of the environments that are their subject. The emerging patterns of land-use, transport and habitation, captured by these artists, have since expanded significantly and have given rise to new spatial agglomerations, such as 'edge cities' and 'exurban' developments. The works in this exhibition maintain a relationship with this work of the 1970s, but also begin to explore the specificity of contemporary landscapes, dwelling for a moment, and capturing the uncertainty of a physical landscape constantly remade.
The exhibition includes video works by David Mutch, Mark Reid and Dawn Roe; photographic works by Tahlia Jolly, David Surman and James Voller; and paintings by Debbie Pridmore.
For available works, please contact the gallery.