Hang-Ups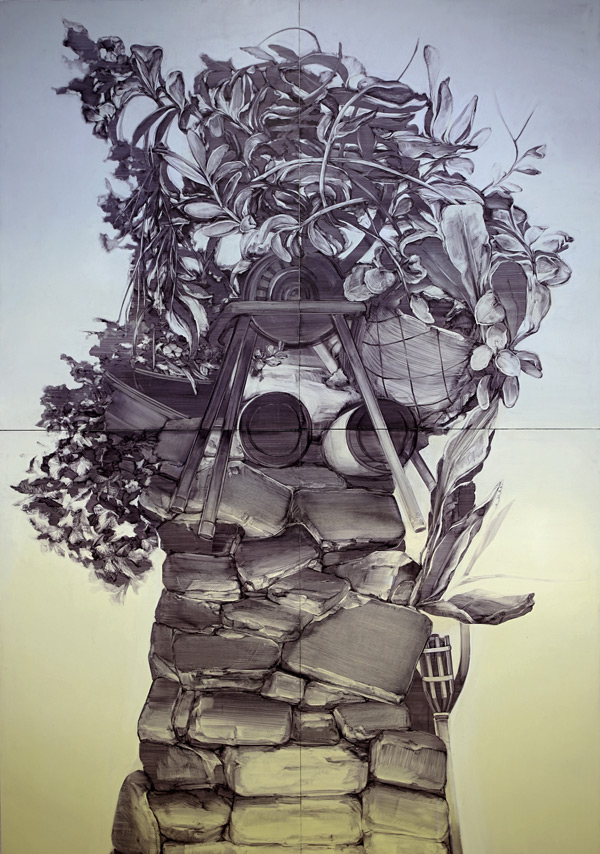 5 October - 9 November 2013
Karla Marchesi's migration to Berlin has yielded significant developments in her aesthetic and conceptual concerns as a painter. Her recently completed six month studio residency at Atelierhaus Mengerzeile and subsequent decision to remain living and working abroad, has provided her with space to reflect on her practice in ways not previously possible whilst living in her hometown of Brisbane.
The exhibition, Hang-Ups, is the playful end product of Marchesi's dedicated experimentation during this time.  These large-scale drawings with paint are indicative of Marchesi's technical desire to return back to the fundamentals of drawing and explore a more liberated painting processes. Though this body of work may appear as a significant formal departure from Marchesi's previous practice, this current collection demonstrates an extrapolation and refinement of an underpainting technique she has employed consistently over the last decade.
Referencing traditions of botanical drawing this collection sees Marchesi further her interest in contemporary still life painting. Rather than depicting flora with scientific accuracy and restraint, these curious paintings appear unearthly, animated and enlivened on the surface as leaves, branches and flowers emerge from often highly saturated, psychedelic grounds. In addition to these aesthetic concerns the personal nature of this collection lends the work depth and resonance.
Marchesi's recent move to Berlin prompted her to investigate her family's history of migration and attachment to home. Intimately probing the complexity inherent within familial relationships the exhibition Hang-Ups explores connections between objects, memory and place. Simultaneously sentimental and psychologically laden, these paintings pulse with layered references and symbolism. In many respects this series functions as a portrait of the artist's father by drawing on autobiographical imagery which is embedded with personal narratives and broader metaphoric associations.
This project has been assisted by the Australian Government through the Australia Council for the Arts, its arts funding and advisory body and marks Marchesi's second solo exhibition with Beam Contemporary.
For available works and prices, please contact the gallery.